Bitcoin Map - Bitcoinmap - Coinmap
Bitcoin World Map
BCH BTC BitcoinCash Bitcoinmap
On BMAP.CASH the best of all Bitcoin Mapbecause you can find the most exclusive coinmap Restaurants, Bars, Supermarkets and Hotels outside of the crypto market to spend your Bitcoins!
Spend your Bitcoin or Cryptocurrency directly without finding bitcoin atms today and inspire the World! Satoshi Nakamoto would be proud of you!
#gastabch #spendbch #bchforeveryone #bitcoin #bch #dash #btc
Download our latest Android App Coinector to locate your closest criptocoin merchant even quicker, to plan your next bitcoin map spending tour!
Both of our Android Apps can be downloaded following the links in the menu.
Bitcoinmap is a cripto coinmap that offers a favorites list, so that you can manage your own list of local bitcoin merchants.
Review the local crypto tourist merchant locations
Our Android Apps provide a review feature, so that you can give positive feedback after visiting a bitcoin map location.
We want to raise the level of Bitcoin Cash cryptomerchant communication. Especially in touristic bitcoin places & locations between the consumer and the local markets on bitcoinmap.
By spreading the word about bitcoin we get others to realize, that we are actually already using it. So they realize that there is happening something.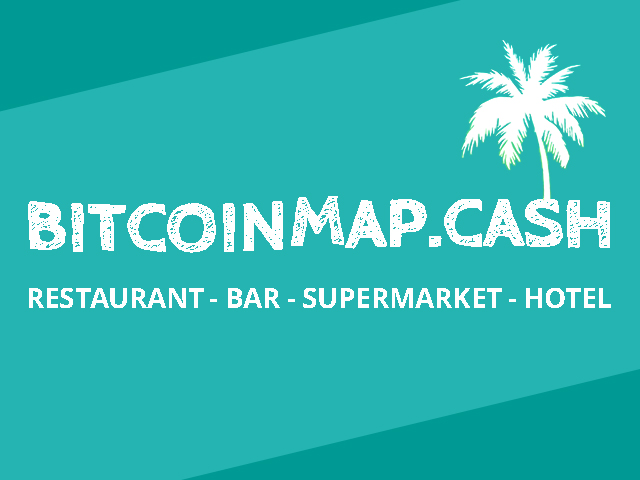 Sign-Up with BMAP LocalBitcoin
With our app local bitcoin Coinector you can Sign-Up new bitcoin merchants on bitcoinmap in less than 5 minutes in a simple and intuitive way.
We guide the user through the process of adding his Coinmap DASH and BCH receiving address, so that we can create a paper with QR codes for them.
Download your PDF QR-Code from our QR-Code Generator
Bitcoin Cash DASH QR-Code Generator
Anypay is our favorite Bitcoin POS as it is reliable and feeless! It also offers text integration and enables fast payments via text message!
We send out information on how to register with ANYPAY the fastest and most innovate POS multi p2p non custodial coin system ever invented which gives 10% Cashback to its consumers!
This promotion drives many crypto coin maps customers to your then multi crypto coin enabled shop. Which enables everyone to pay in any cryptocoin they like
Accepting 11 different BitcoinCash Bitcoin Map coins opens up a whole new market. In contrast to just accepting one coin and managing all these coins with different POS that makes no sense
ANYPAY is the absolute best cryptocurrency solution for any bitcoin cryptomaps business, that wants to accept crypto payments as fast and easy as possible.
BMAP Crypto CoinMap feature top bitcoincash merchant locations & places to spend BTC BCH BSV or DASH
We have searched all the other Bitcoin Cash directorie online and have added the best and only verifiable crypto merchant locations for you to enjoy.
We feature most of the crypto places from Marco Coino that fall within our coinmap categories!
We ignore the data on coinmap.org because it is outdated and contain many fake BTC entries the news is that these bitcoin charts just focus on numbers.
We publish all the BSV DASH BCH BTC places from Anypay Map as their data is very reliable.
We also added all the bitcoin places & locations accepting BTC BCH BSV or DASH bitcoins available on GoCrypto or Salamantex.
The places of DASH we have found mostly on Discover Dash but we had to filter many fake bitcoin terminal data which was not verifiable or not up to date.
THANKS TO THEM FOR PROVIDING THE DATA to bitcoinmap.